Foreword

Like many of us, you may have experienced at one point or another in your life aches and pains in your physical body revealed by stress or difficulties you are encountering in your life. Pains such as back aches, a feeling of heaviness in the legs, tension in the shoulders, head aches, or stomach sickness are often attributed to a lack of communication or genuine listening to oneself, a lack of attention and physical contact and/or time restriction granted to oneself.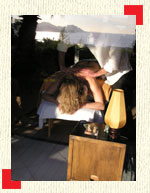 According to oriental philosophy, all physical problems are linked to a disturbance in the free-flow circulation of energy in our bodies.

Any physical or psychological ailment can be relieved through the restablization of those energies. In the vast domain of energetic relaxation, the most simple and prevalent method to relieve energy clamping is through touch; or the "Hands-On Approach".



An alternative exists to this constant flight of your life, body and spirit: personalized energetic relaxation and traditional massages given to you at home. These practices restore the circulation of blocked energies in the organism, improving the well-being of internal organs which in turn promote the body's defense capabilities and self-recovery. People are now willing to spend more money and time on complementary healthcare such as massage and deep relaxation to address aches and pains, as well as the cumulative effects of stress.

A worldwide tour of Massage and Energizing Relaxation Techniques is a site which will introduce and make you discover the theoretical approaches and the real value of Traditional Massages. You will become familiar with and understand their origins, methods and multiple benefits . In addition, this site offers you the possibility to contact the Masseur himself whom with a rightful heir of oriental and occidental relaxation methods will adapt the massage technique that best suits your needs, all done in the comfort of your home.