Shiatsu massage
Shiatsu origins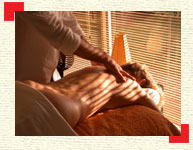 Shiatsu is a massage technique which dates back to the sixth century which evolved from the traditional technique Anma, practiced by the blind. The term Anma comes from the Chinese word An-mo which translates to "calmness through touch". The traditional Chinese Massage "Tuina Anmo" originates from the third millennium BC.
"Shi" means finger and "Atsu" pressure. Shiatsu arrived in Europe and the United States in the early 1970s and was considered as an acupuncture-type treatment without needles. Like traditional Chinese massage, this technique supports a global vision of the person whereby the body and mind are closely related.
There are approximately 365 points placed symmetrically on each side of the body. The points are often found through small, slight depressions on the skin. The pressure is usually carried out with the thumbs but the fingers, palms and elbows may also be used. Shiatsu treatments are practiced on the ground, with the patient lying on a small futon mattress.
Shiatsu practice
During massage, the position of the body of the practitioner is essential and is as follows:
The masseur, whilst positioned over the patient, has his knees apart and on the floor to maintain balance.
Shoulders are upright, and arms outstretched - he moves his hips so as to obtain a progressive work.
The pressure, even when intense, must never become unpleasant.
The art lies in the accuracy of pressure. On the more sensitive areas such as the abdomen or face, pressure is adhered without the support of the body.
Exercised in a given context and with varying intensity, the masseur follows the respiratory parameter of the recipient (pressure for five seconds at its expiry and progressive release his inspiration).
Depending on the mode of action, Shiatsu tones or disperses energy.
Shiatsu benefits
Its goal is to soothe, relieve, and bring vitality to the whole body as well as cure various diseases (digestive, musculoskeletal, nervous system issues) .
Shiatsu also has a stimulating effect on the parasympathetic system, acting on the tensions behind many ailments and diseases. The benefits of this massage towards tense muscles and pain are confirmed by a medical concept called "barrier pain". Its pressures prevent the brain from receiving the starting signal of pain, simply by blocking it by issuing other signals instead.