Massage on Events

Give away the only gift that really touches!

From Marseille to Monaco, for your cocktails, private parties, to celebrate a birthday or for a special event, on an exhibition or during a congress...a professional team of massage on an ergonomic chair brings you wellness & energetic relaxation. Healing guaranteed!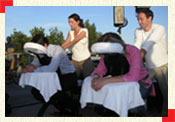 The World Tour of Massages brings together health and well-being experts, all independents and with a reputation in their own field, all with a unique expertise centred around the same passion: relaxing the body, soothing the spirit & allowing the energy to flow back again.

Bring an additional human and energetic touch to your events. These unique sessions of massages on a chair are tailored to your needs and within hands reach...